Next generation Oral Care! Open the next door!
Greetings from the Congress President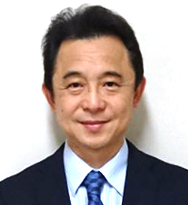 Dear colleagues,
It's my great pleasure to be appointed as the chairperson of the 29th Annual Meeting of the Japanese Society of Oral Care and the 2nd Annual Meeting of the International Society of Oral Care. This year, the meeting theme is "Bringing The Next Generation In Oral Care: Approaches and Opportunities".
As you're aware, oral care was introduced as the oral function management course in 2012, fully recognising its importance in the medical field. However, with its rapid advancement, it is challenging to keep pace with the sophistication of medical care with the learning and experience we possess. Such as in supporting the ageing of patients (robot support or custom-made medical care, immune checkpoint inhibitors, etc.) or in dealing with the unexpected novel coronavirus pandemic. Nevertheless, there is a need to address some questions on oral care in the current context: Why is oral care needed? What is the medical basis for oral care? Isn't it time for us to think ahead and focus on oral care developments for the next generation?
With multidisciplinary collaboration presently trending in medical care, its need has also been established in oral care in Japan. And this is one of the most outstanding achievements of the Japan Society of Oral Care. Until now, most academic societies have focused on disseminating oral care to medical personnel, that is, ways of approaching and implementing oral care at each facility. Although this is an important aspect, considering the emphasis on education and methodology, we hope that a more "sparkling" form of oral care will be promoted in advanced oral care by incorporating newer knowledge. This aspiration is the bedrock of the annual meeting at the Osaka Medical and Pharmacological University based on the theme "Bringing The Next Generation In Oral Care: Approaches and Opportunities", covering a new approach to oral care through metagenome analysis of the effects of oral hygiene on the whole body. Emphasising the participation of pharmacists in oral care, as well as the start of an oral care ambassador system in which citizens convey the importance of oral care to society.
The International Society of Oral Care will conduct meetings annually, and it will be the launchpad for the future of oral care. We look forward to the participation of members and medical professionals such as doctors, dentists, nurses, and dental hygienists at the Japan Society of Oral Care. Although the novel coronavirus pandemic continues to affect the world at large, we have taken all measures against the risk of catching an infection. Hence, I encourage you to confirm your participation without hesitation.
With warm regards,
Takaaki Ueno
Professor, Department of Oral Surgery, Osaka Medical and Pharmaceutical University